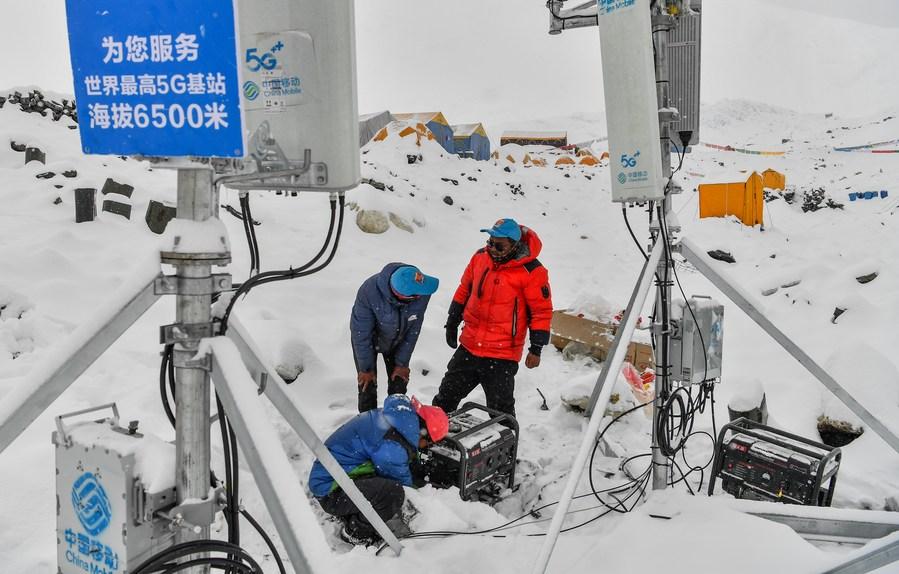 Staff members of China Mobile test the signals of the 5G base station built at an altitude of 6,500 meters at the advance camp of Mount Qomolangma in southwest China's Tibet Autonomous Region on May 21, 2020. (Xinhua/Jigme Dorje)
LHASA, April 25 (Xinhua) -- More than 9,500 5G base stations had been built in southwest China's Tibet Autonomous Region by the end of March, with the number of 5G users in the region nearing 1.03 million, according to a 5G+ industrial internet conference held on Tuesday.
By the end of March, the 5G network had covered the main urban areas of 74 county-level areas in Tibet, the conference said.
To boost high-quality economic and social development and the digital transformation of various industries, Tibet will build more than 2,300 5G base stations this year and the number of 5G base stations is expected to reach 18,000 by the end of 2025.
Tibet opened its first 5G base station in 2019. In recent years, the autonomous region has been promoting 5G network applications and technologies in education, medical care, transportation and logistics.
5G technologies are widely applied in the Chinese economy, according to the Ministry of Industry and Information Technology.