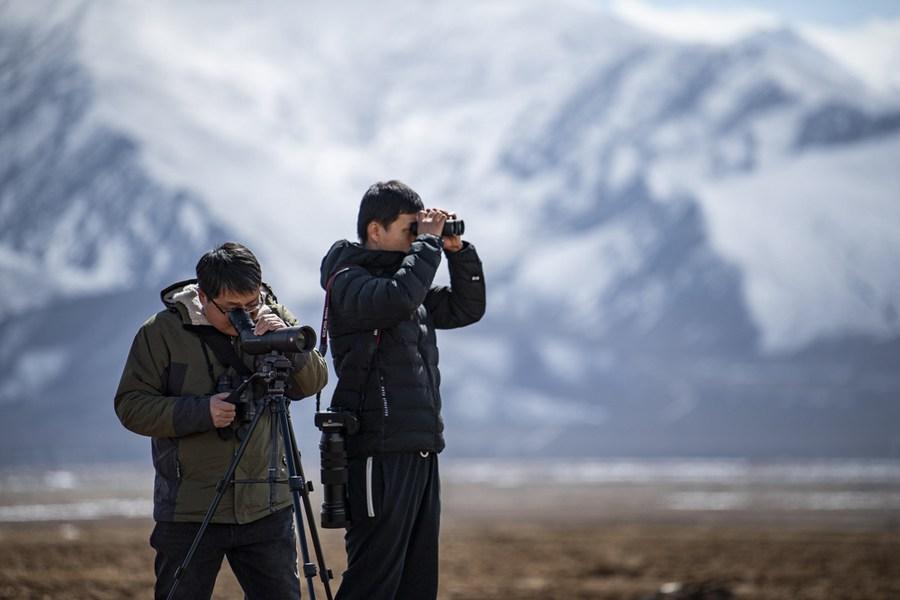 Yang Le (L) observes black-necked cranes with his colleague in Lhunzhub County of Lhasa, southwest China's Tibet Autonomous Region, March 1, 2023. (Xinhua/Sun Fei)
LHASA, March 5 (Xinhua) -- Yang Le, 41, is an associate researcher and deputy director of the Tibet Plateau Institute of Biology. Since graduating from university in 2004, Yang has been dedicated to the research and protection work of wild animals in Lhasa, southwest China's Tibet Autonomous Region.
"I regard black-necked cranes as my children," said Yang.
Over the years, Yang has witnessed the continuous increase in the number of black-necked cranes amid the region's thriving biodiversity protection endeavors.
Listed as a bird species under national first-class protection, these cranes mainly inhabit plateaus, meadows, marshes, reed swamps, lakeside meadow swamps and river valley swamps at altitudes of 2,500 to 5,000 meters. Lhunzhub County in Tibet is one of the major wintering habitat of black-necked cranes.
The population of black-necked cranes in Tibet has surpassed 10,000, according to a report released last year by the regional department of ecology and environment.
So far, Tibet has built 47 nature reserves covering a total area of about 412,200 square kilometers, which accounts for more than one third of the region's total area.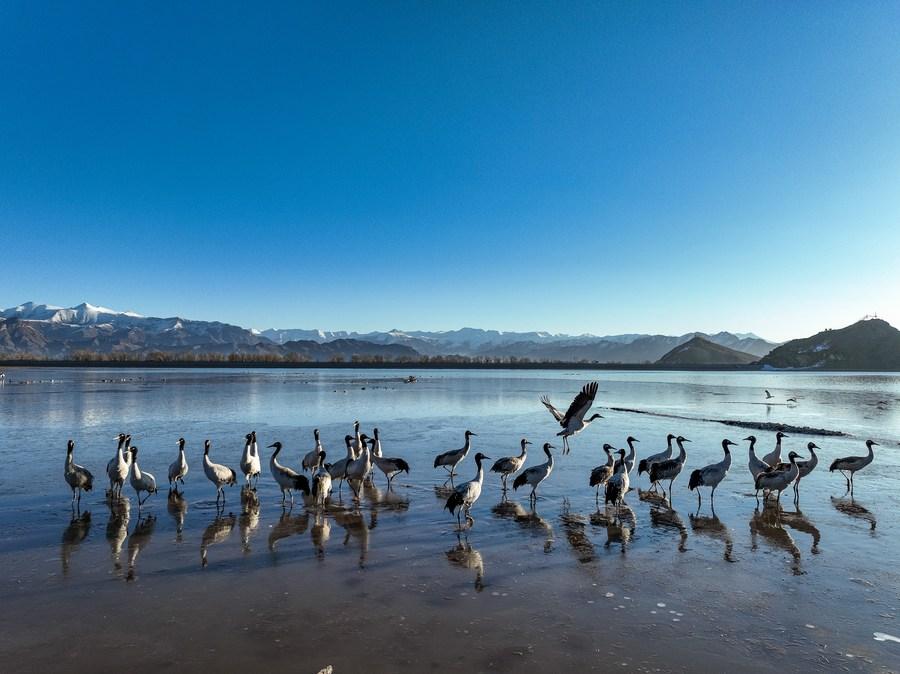 This aerial photo taken on March 1, 2023 shows black-necked cranes in Lhunzhub County of Lhasa, southwest China's Tibet Autonomous Region. (Xinhua/Sun Fei)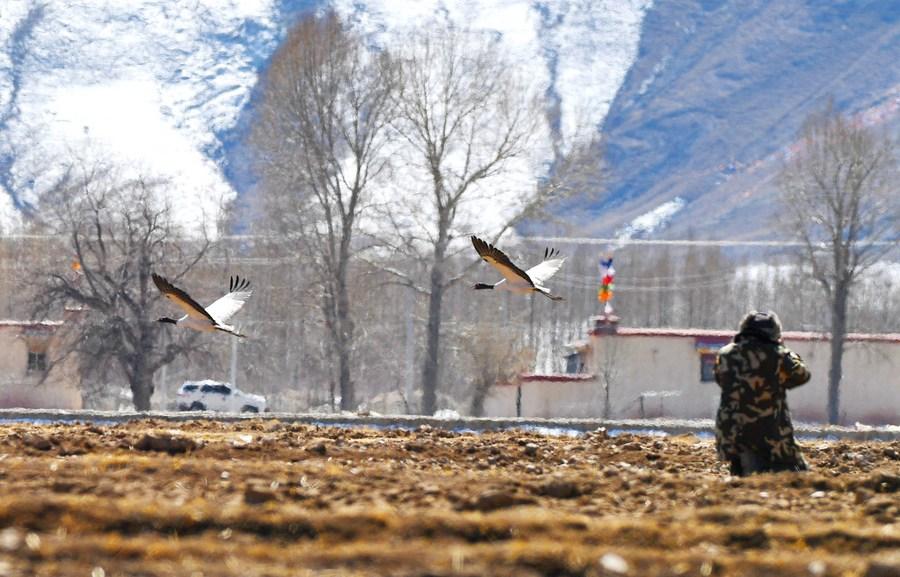 This photo taken on March 1, 2023 shows black-necked cranes in Lhunzhub County of Lhasa, southwest China's Tibet Autonomous Region.(Xinhua/Zhang Rufeng)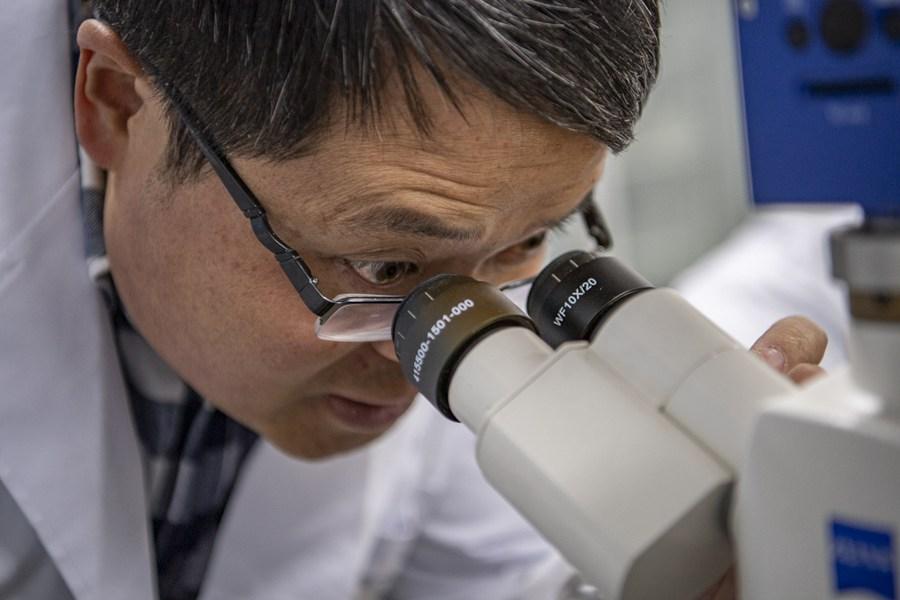 Yang Le examines an animal specimen under the microscope at a laboratory of the Tibet Plateau Institute of Biology in Lhasa, southwest China's Tibet Autonomous Region, March 2, 2023. (Xinhua/Sun Fei)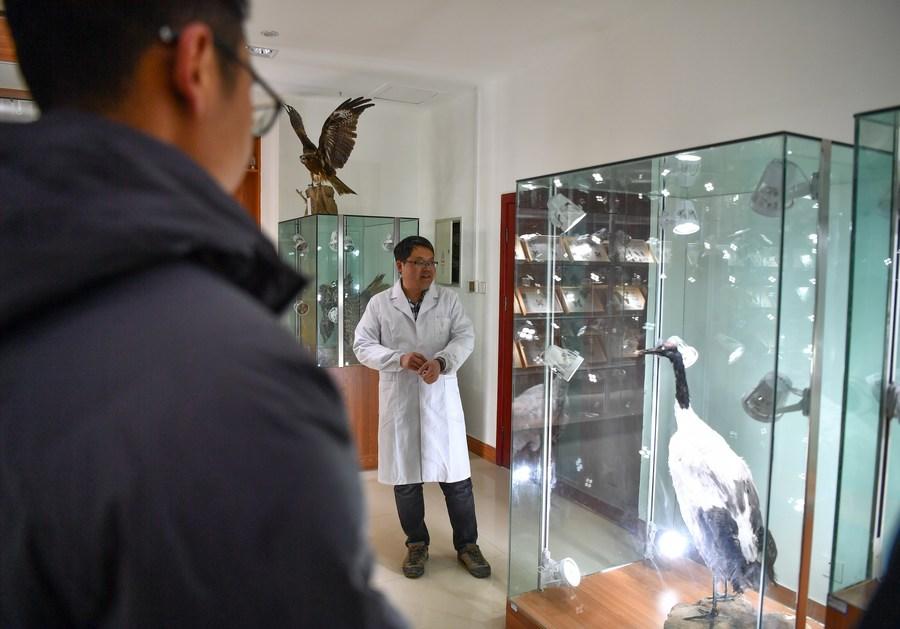 Yang Le (R) explains the behavior of black-necked cranes in the Tibet Plateau Institute of Biology in Lhasa, southwest China's Tibet Autonomous Region, March 2, 2023. (Xinhua/Jigme Dorje)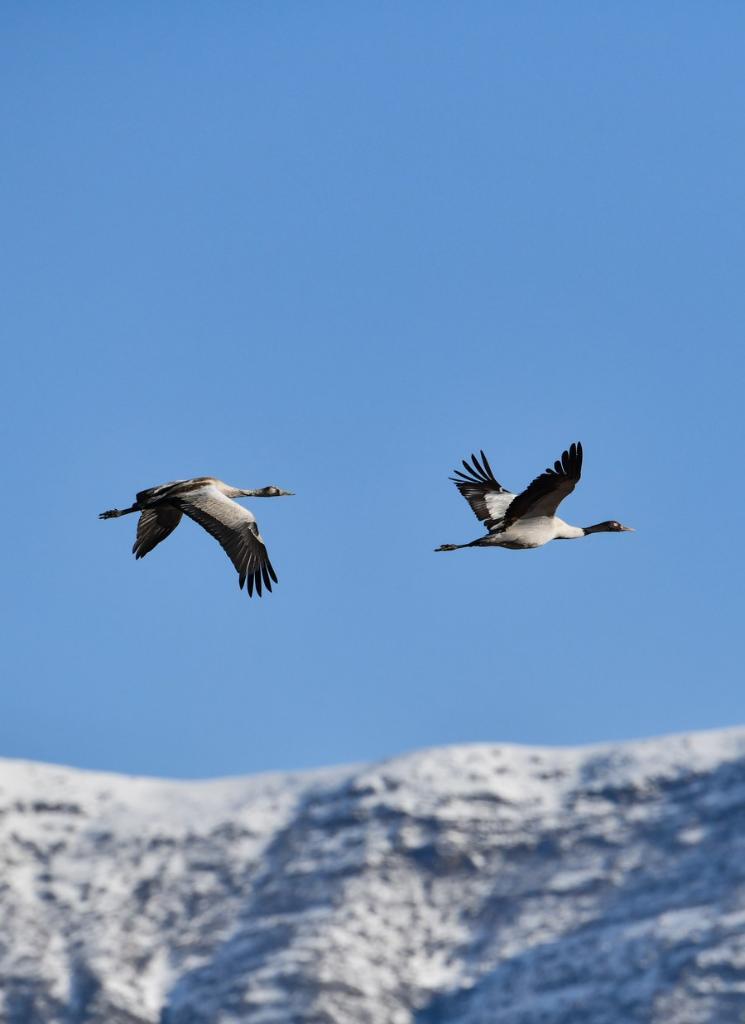 This photo taken on March 1, 2023 shows black-necked cranes in Lhunzhub County of Lhasa, southwest China's Tibet Autonomous Region. (Xinhua/Jigme Dorje)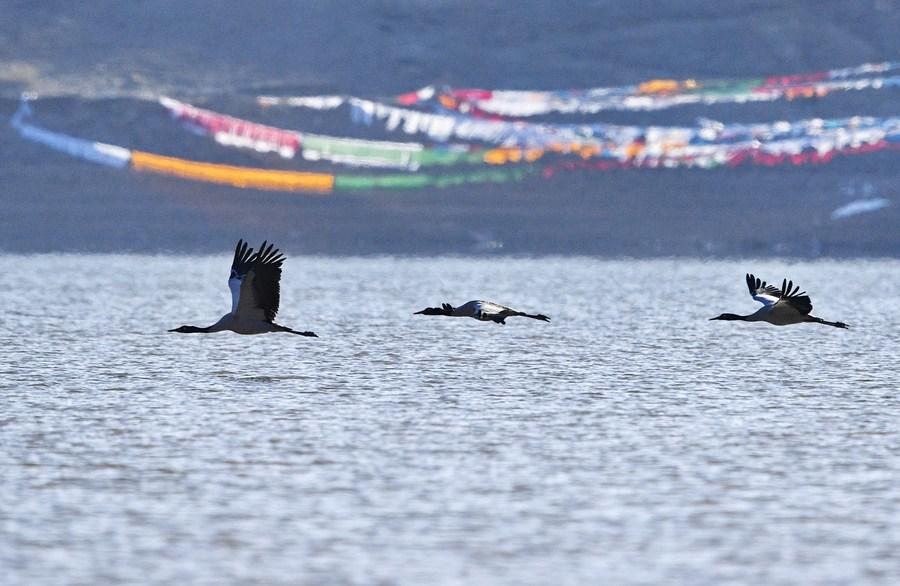 This photo taken on March 1, 2023 shows black-necked cranes in Lhunzhub County of Lhasa, southwest China's Tibet Autonomous Region. (Xinhua/Zhang Rufeng)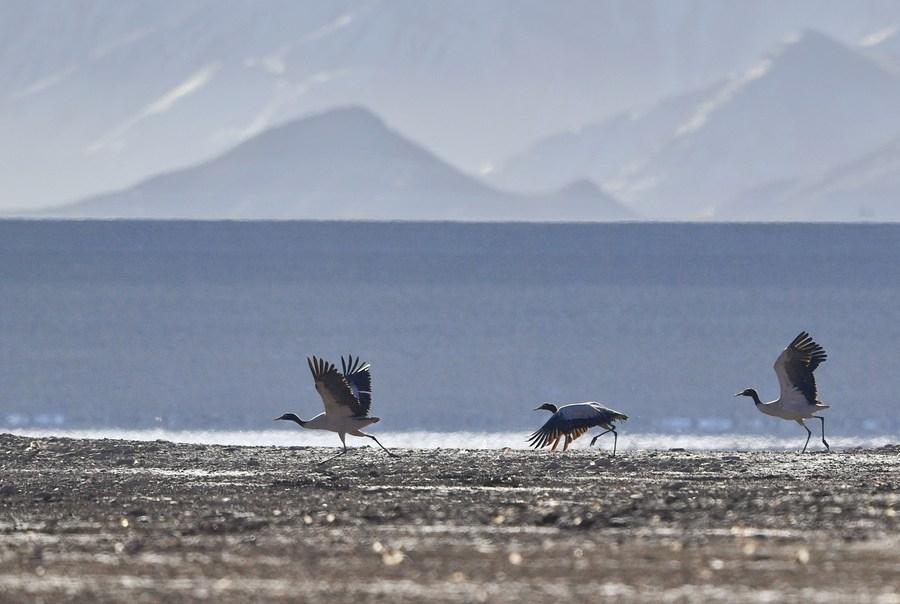 This photo taken on March 1, 2023 shows black-necked cranes in Lhunzhub County of Lhasa, southwest China's Tibet Autonomous Region. (Xinhua/Zhang Rufeng)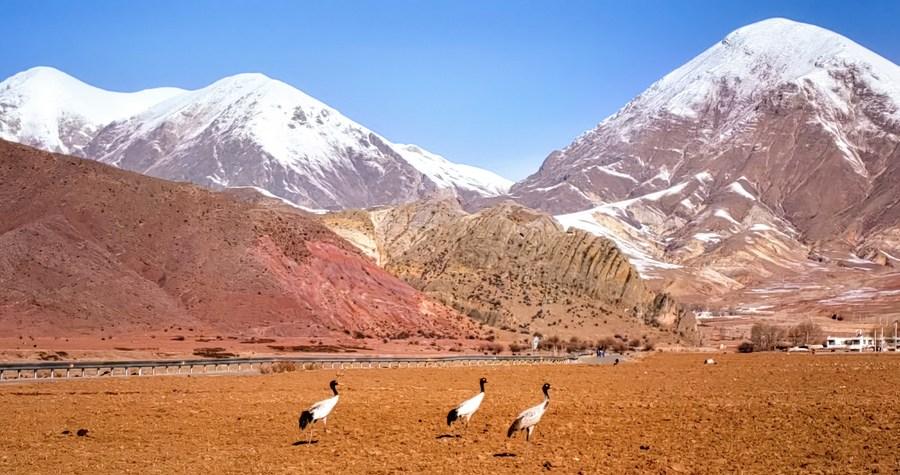 This photo taken on March 1, 2023 shows black-necked cranes in Lhunzhub County of Lhasa, southwest China's Tibet Autonomous Region. (Xinhua/Shen Hongbing)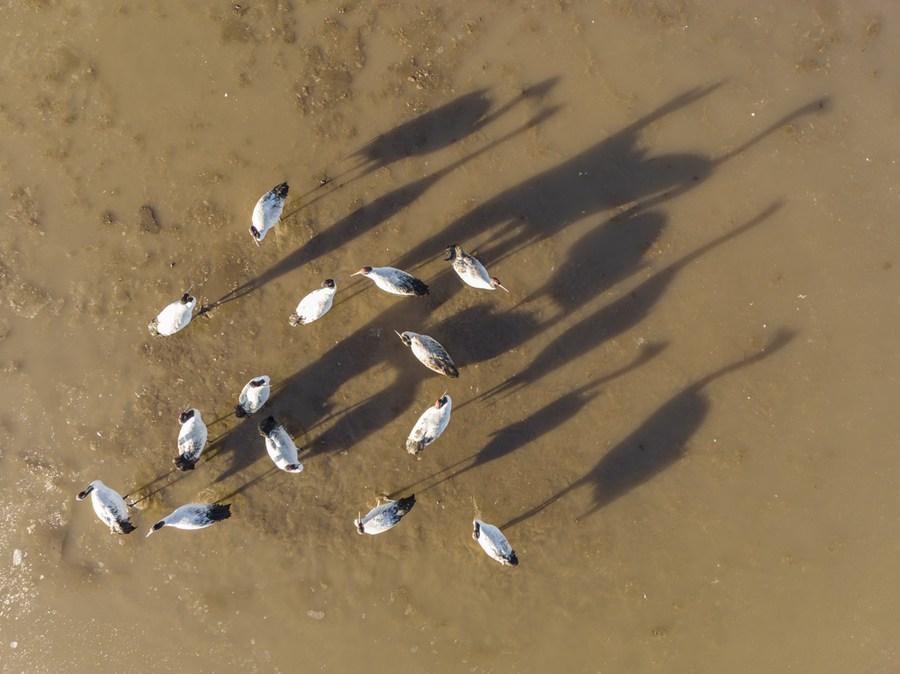 This aerial photo taken on March 1, 2023 shows black-necked cranes in Lhunzhub County of Lhasa, southwest China's Tibet Autonomous Region. (Xinhua/Sun Fei)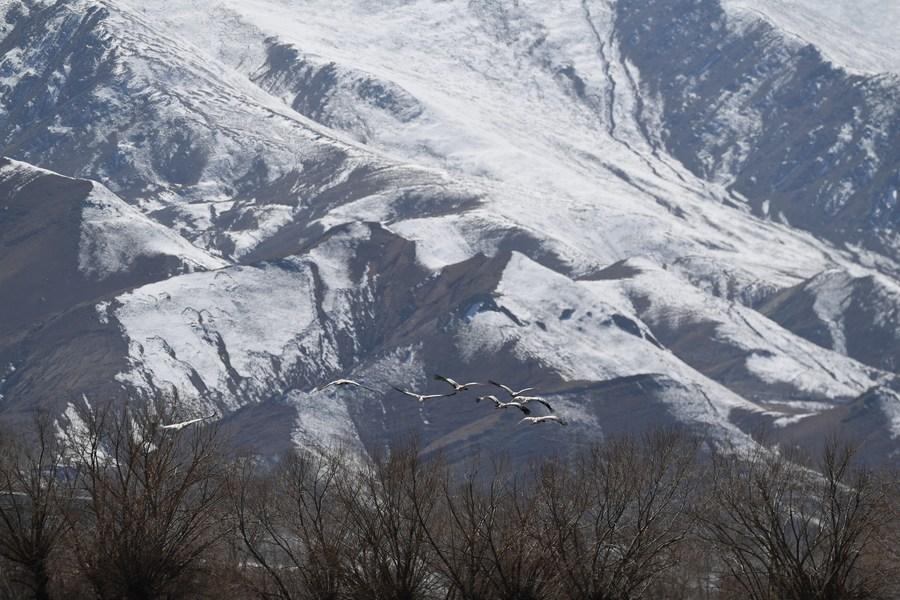 This photo taken on March 1, 2023 shows black-necked cranes in Lhunzhub County of Lhasa, southwest China's Tibet Autonomous Region. (Xinhua/Zhang Rufeng)