LHASA, March 15 (Xinhua) -- "Surreal but nice!" The iconic line from the movie "Notting Hill" was all I could think of as I stood in awe, watching the new energy vehicles (NEVs) effortlessly shuttle against the backdrop of the breathtaking snow-capped mountains and the majestic Potala Palace.
The bustling streets of Lhasa, the regional capital of Tibet, are filled with new energy buses, taxis and private cars. I find it quite surprising to see some non-local vehicles among them, considering the long journey from other parts of the country to this plateau region.
Intrigued by my inquisitive nature, I struck up a conversation with Cai Junbo, a tourist hailing from south China's island province of Hainan. He revealed that he had embarked on a road trip from his hometown all the way to Lhasa, driving his NIO sports utility NEV.
I asked him if he had any concerns about running out of battery on the way, and he said he had relied on his mobile app to locate nearby charging services en route. Cai enthusiastically shared that he even found a battery-swap station in Lhasa, which is the first of its kind on the "roof of the world," and it took only five minutes for him to have his battery swapped at this innovative facility.
As our conversation drew to a close, I inquired whether he would drive his NEV to Lhasa again. Cai's response was resolute, "Absolutely," leaving no room for doubt.
Before bidding goodbye, he told me about his future plans to drive to the base camp of Mount Qomolangma for tourists, where conventional fuel cars are prohibited due to environmental protection efforts.
The trend of driving to Tibet in NEVs has gained popularity on social media platforms, with drivers from various regions of China sharing their experiences and insights. In a recent blog post, a popular blogger named "Brother Camper" shared that he had only charged his Tesla 12 times during his 4,300-km journey from Shenzhen to the Mount Qomolangma base camp for tourists, highlighting the impressive efficiency of electric vehicles.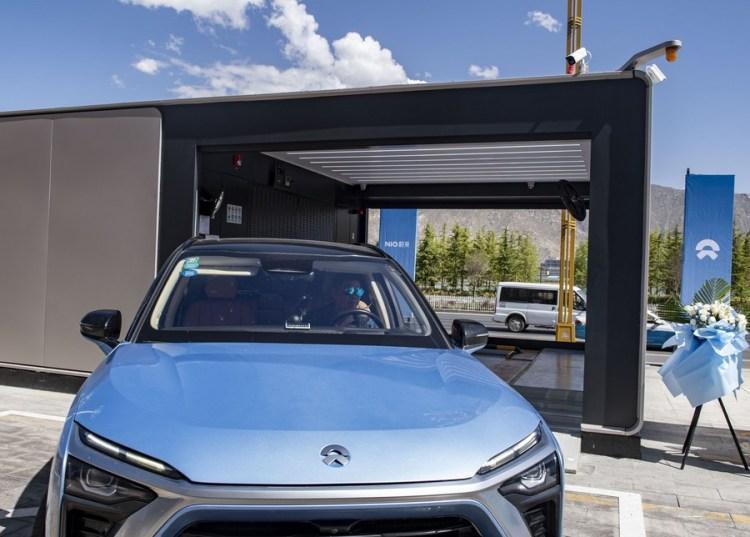 According to official figures, 757 NEVs were registered in Lhasa last year, bringing the total number of NEVs in the city to 2,105.
While the number may not currently be significant compared to the 360,000 total vehicles in the city, it is a positive indication that the network of charging poles and stations is being established in the plateau region.
I strongly believe that NEVs will gain increasing popularity in this region for several reasons. First, the performance of fuel vehicles is significantly impacted by the low-oxygen environment on the plateau. Besides, the gas price is considerably higher in this region compared to other areas in China due to the high transportation costs. On the other hand, electricity is far less expensive than gas, making NEVs an attractive and practical alternative.
In addition to its rich hydropower resources, Lhasa boasts an average of over 3,000 sunshine hours per year, making it a prime location for solar energy generation. This abundance of solar power is a significant advantage for the development of the NEV market in the region.
I recently stumbled upon a report released by the regional department of ecology and environment last June, which stated that Tibet remains one of the most environmentally pristine regions in the world. The air quality in the region remained consistently good throughout 2021, with 100 percent of the days in Lhasa being classified as having good air quality.
There's nothing quite like taking a leisurely stroll along the streets of Lhasa, breathing in the crisp air and basking in the warm sunshine, all against the stunning backdrop of the Potala Palace and under a vibrant blue sky.
It truly is a fantastic experience. Unmatched purity!
I firmly believe that promoting the use of NEVs can help Tibet maintain this advantage.