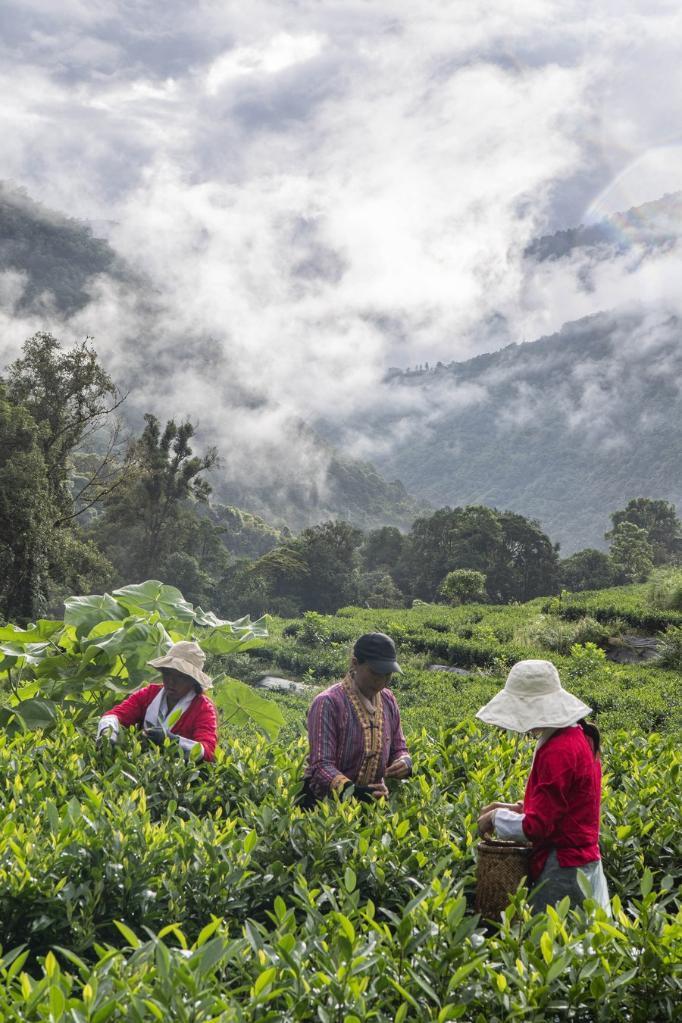 Farmers pick tea leaves at a tea garden in Medog County of Nyingchi, southwest China's Tibet Autonomous Region, Sept. 19, 2020. (Xinhua/Sun Fei)
LHASA, April 25 (Xinhua) -- In Geling Village of Medog County in southwest China's Tibet Autonomous Region, the morning air of spring is filled with the sweet aroma of freshly picked tea sprouts.
Tsering Yangdron, a 25-year-old Monpa ethnic minority woman, skillfully navigates the tea garden, deftly plucking the tender leaves and tossing them into a bamboo basket tied to her waist.
For Tsering Yangdron, tea picking has become an annual tradition over the past five years. Her village Geling was once inaccessible due to its rugged terrain and dense forests. However, the opening of the Medog Highway in 2013 significantly improved connectivity and opened up opportunities for economic growth.
Tea picking is typically done in the morning to ensure the collection of fresh tea leaves from mist-shrouded tea gardens located on the south bank of the Yarlung Zangbo River.
After she is done with the tea picking, Tsering Yangdron rushes back home. Her homestay's guest rooms have been fully booked every day since March, so she must clean the rooms and prepare meals for the guests.
"We have created a dish that incorporates fresh tea buds fried with eggs," she said.
A kilogram of fresh tea sprouts that she picked can be sold for 300 yuan (about 43.5 U.S. dollars). Once dried and processed to make green tea, the value of the tea can increase significantly.
With more than 75 percent of the county's land covered by forests, Medog is dubbed a "natural animal and plant museum," making it an appealing destination for tourists.
Prior to Huang Jiabin's appointment as the village's Party secretary, the scenic terraced tea garden in Geling was a neglected and untamed piece of land. Huang soon realized that the valley's environment was suitable for growing tea.
"Since 2018, we have improved the management of the tea garden, introduced advanced tea planting techniques and provided training for local villagers," he said.
The village harvested nearly 15,000 kg of tea in 2022, generating more than 520,000 yuan in revenue, with an average household income of nearly 18,000 yuan.
Last year, an upgrade of the village's infrastructure was completed to facilitate tourism, with the construction of an observation platform overlooking the tea garden.
The village received more than 15,000 visitors in 2022, generating comprehensive tourism revenue of over 600,000 yuan and creating more than 30 jobs for the villagers.
Li Liuxiang, a tourist from central China's Henan Province, expressed his surprise at the well-maintained homestays and beautiful tea garden in such a remote village. "Tourists feel safe and comfortable walking around the village at night, thanks to solar-powered streetlights that automatically turn on."
"Geling Village's economic development mode combining tea plantation with tourism has set an example of rural development in Medog," said Yuan Yugui, director of the county's agriculture and rural affairs bureau.
To date, 103 high-standard organic tea gardens have been developed across the county, covering a total area of over 1,200 hectares. This spring, tea sales alone brought 1.28 million yuan to the locals.