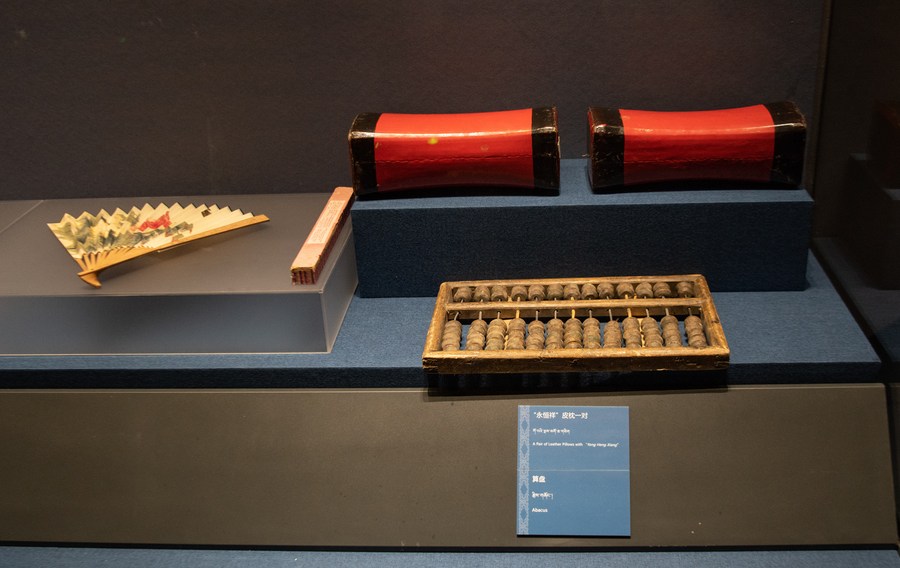 Photo taken on July 6, 2022 shows exhibits at the Tibet Museum in Lhasa, southwest China's Tibet Autonomous Region. (Xinhua/Jigme Dorje)
LHASA, Oct. 10 (Xinhua) -- China has invested significantly in the cultural heritage affairs of the Tibet Autonomous Region, with 2.17 billion yuan (about 302 million U.S. dollars) spent on this sector from 2016 to 2020.
The funds mainly helped to support the region's cultural heritage protection, archaeological and historical research, high-quality development of museums, the enhancement of science and technology and other fields related to the sector, according to the regional cultural heritage work conference held on Monday.
Also on Monday, the National Cultural Heritage Administration and the regional government signed a cooperation agreement on strengthening cultural heritage protection and utilization in Tibet.
The parties will jointly promote reform of the protection and utilization of cultural heritage in Tibet and support the high-quality development of cultural heritage affairs in fields such as reform and innovation in the protection and utilization of cultural heritage, protection and management of cultural heritage resources, systematic protection of cultural heritage and historic sites, archaeological research, technological innovation and talent training, said the agreement.
Since late 2012, Tibet has surveyed and registered 4,468 immovable cultural heritage sites of various types and 510,000 pieces of movable cultural heritage.