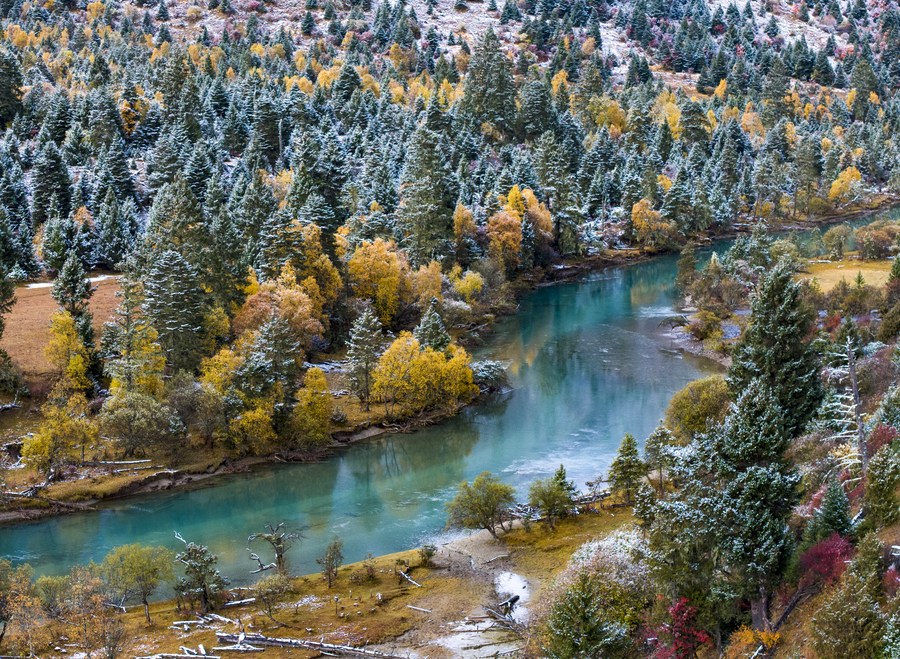 This aerial photo taken on Oct. 28, 2023 shows the autumn scenery of a canyon after a snowfall in Gongbo'Gyamda County in Nyingchi City, southwest China's Tibet Autonomous Region. (Xinhua/Jiang Fan)
LHASA, Nov. 1 (Xinhua) -- Iconic tourist destinations in southwest China's Tibet Autonomous Region, such as Potala Palace, will be open to the public free of charge from Wednesday until March 15 of 2024, as part of the region's winter tourism promotion.
The regional tourism development department said on Tuesday that, during the winter promotion period, all scenic spots rated above A level in Tibet will be open to the public free of charge, except for temple sites.
China has a tourist-rating classification system that rates tourist attractions from 1A to 5A based on their overall tourism quality.
During the winter months, hotels, restaurants, passenger transport services and airlines will offer off-season prices.
The local authorities plan to give incentives or subsidies to travel agencies, tourism and transport enterprises and airlines for serving travel routes in and out of Tibet.
Tibet received 49.67 million domestic and overseas visitors in the first three quarters of this year, up 67.4 percent year on year.
The region's tourism revenue surged 46.2 percent from a year earlier to about 59.4 billion yuan (about 8.1 billion U.S. dollars) during the period, according to the regional tourism department.