* The sixth China International Import Expo reaffirms China's dedication to shared development in a global economy confronted by myriad challenges.
* An important manifestation of China's scientific and technological innovation capability is the application of innovations to its industrial development, including in electric vehicles, and digital and solar technologies.
* The China-U.S. cooperation on green economy and climate change will help countries in the region move towards a sustainable future.
SINGAPORE, Nov. 8 (Xinhua) -- World government and private sector leaders gathered here on Wednesday at the sixth annual Bloomberg New Economy Forum to discuss ways to "embrace instability."
The forum highlights the challenges confronting the global economy and underscores the opportunity to better understand and address underlying issues, as the global economy did not recover from the pandemic as fast as optimistic economists have expected.
The Chinese economy, on the other hand, has sustained its recovery momentum with solid progress made in high-quality development. China's gross domestic product expanded 4.9 percent in the third quarter, and grew 5.2 percent year on year in the first three quarters of 2023, according to China's National Bureau of Statistics.
As China navigates the next phase in its development, featuring innovation capacity, sustainable technologies, industrial upgrading and high technologies, growth opportunities across a wide variety of sectors are provided to its regional and global partners.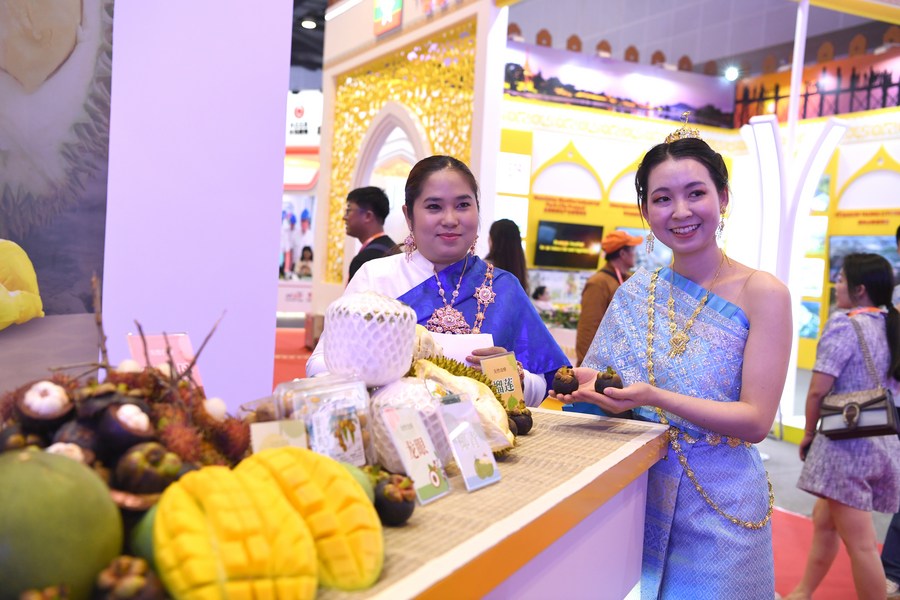 Exhibitors display fruits from Thailand during the 20th China-ASEAN Expo at Nanning International Convention and Exhibition Center in Nanning, capital of south China's Guangxi Zhuang Autonomous Region, Sept. 17, 2023. (Xinhua/Zhou Hua)
FURTHER OPENING-UP
China will firmly advance high-level opening-up, and is willing to share the benefits of its institutional opening-up with world companies, Chinese Vice President Han Zheng said in his keynote speech at the forum.
China has recently announced it will remove all restrictions on foreign investment access in the manufacturing sector, which speaks volumes about China's determination.
"We believe that investing in China is investing in the future," said L'Oreal Chairman Jean-Paul Agon. With a further opening-up of its market, an improved business environment and promising domestic demand boosted by initiatives, China is offering the world new opportunities, he said.
Data shows that 1,110 overseas institutions had gained access to China's bond market, with holdings topping 3.3 trillion yuan (150 billion U.S. dollars) by the end of September. Some 202 banks from 52 countries and regions have set up institutions in China.
Over the past five years, the annual China International Import Expo has become a symbol of China's high-level opening-up and an emblem of its ongoing endeavors to build an open global economy.
Making its first complete return to in-person exhibitions since the onset of COVID-19, the ongoing sixth expo again highlights China's dedication to shared development in a global economy confronted by myriad challenges.
Malaysia has always had confidence in the Chinese market and regards China as an important export market and investment destination. As one of the largest markets in the world, China has a strong demand for various products and services, providing opportunities for Malaysian enterprises, said Low Kian Chuan, president of the Associated Chinese Chambers of Commerce and Industry of Malaysia.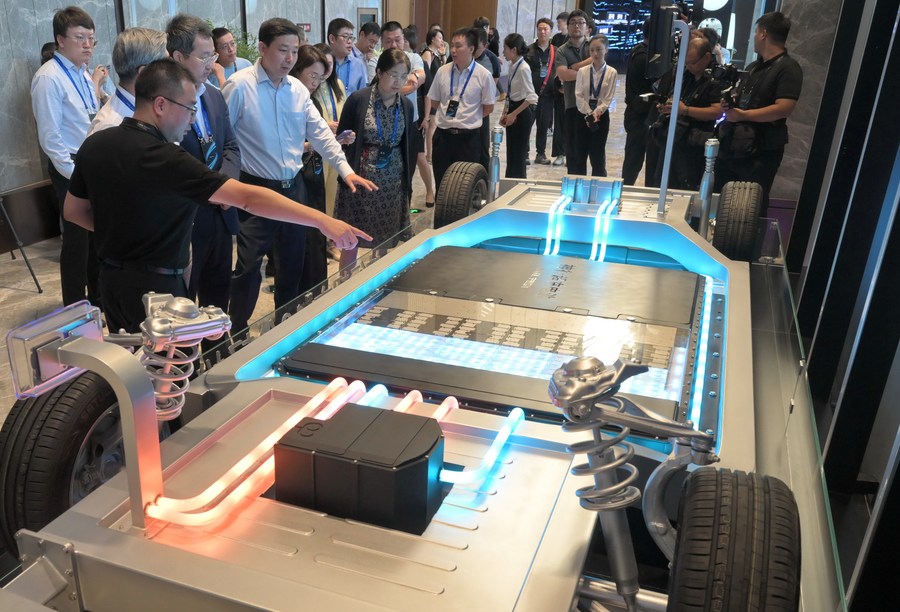 Visitors look at the Shenxing Superfast Charging Battery in Ningde, southeast China's Fujian Province, Aug. 16, 2023. (Xinhua/Lin Shanchuan)
HIGH-QUALITY DEVELOPMENT
As Han pointed out in his speech, innovation is the driving force for accelerated economic recovery and steady progress.
In China, high-tech investment grew 11.5 percent year on year in the first seven months, and the funds for scientific research and technologies went up 23.1 percent. The production of new energy vehicles and solar batteries rose 24.9 percent and 65.1 percent in July, respectively.
An important manifestation of China's scientific and technological innovation capability is the application of innovations to its industrial development. This is an advantage for China, and can become a driving force for global development, said Gu Qingyang, an associate professor at the National University of Singapore's Lee Kuan Yew School of Public Policy.
Chinese automakers dominated Southeast Asia's fast-growing electric vehicle (EV) market, selling three out of every four EVs in the first quarter, according to research firm Counterpoint Research.
Countries in the region are also looking at China's digital technology as they are engaged in post-pandemic economic recovery and national digital transformation.
"As the world's largest manufacturer of solar panels, wind turbines, batteries and electric vehicles, China is well-placed to help enable the adoption of low-carbon technologies at scale in emerging economies and developing nations through the BRI (the Belt and Road Initiative)," said Damilola Ogunbiyi, special representative of the UN secretary-general for sustainable energy for all.
By the end of 2022, China had signed MoUs on the construction of the Digital Silk Road with 17 countries, and on e-commerce cooperation with 30 countries, according to a white paper released earlier this year.
During the just-concluded forum in celebration of the 10th anniversary of the BRI, China pledged to work with all parties involved to elevate Belt and Road cooperation to a new stage of high-quality development and make relentless efforts to achieve modernization for all countries.
The opening ceremony of the sixth China International Import Expo (CIIE) and the Hongqiao International Economic Forum is held in east China's Shanghai, Nov. 5, 2023. (Xinhua/Jin Liwang)
BOON TO GLOBAL GROWTH
China is ready to work with the rest of the world to boost world peace and security and pursue common development and prosperity. This is a promise that Chinese leaders have made on many occasions.
The message has been well received by global partners, especially the Association of Southeast Asian Nations (ASEAN) countries. As China and ASEAN remain each other's top trading partner, their closer ties are important to sustainable development and stability in the region.
"We need to make this (China-ASEAN) cooperation meaningful by realizing concrete and mutually advantageous cooperation," Indonesian President Joko Widodo said at the 26th China-ASEAN Summit in September.
"Despite facing various challenges, including protectionism, geopolitical competition, and economic downturns, China and ASEAN have managed to maintain a robust and positive relationship," said Thong Mengdavid, a research supervisor at the Phnom Penh-based independent think tank the Asian Vision Institute.
In regard to China-U.S. relations, Vice President Han said China always views and handles its ties with the United States in accordance with the principles of mutual respect, peaceful coexistence and win-win cooperation.
Positive interactions in the Asia-Pacific region would serve the interests of both China and the United States, as they share a common interest in maintaining stability in the region, said Yu Hong, senior research fellow at the East Asian Institute, National University of Singapore.
It is also the common aspiration of countries in the Asia-Pacific, Yu added, saying the China-U.S. cooperation on green economy and climate change will help countries in the region move towards a sustainable future. (Video reporters: Wu You, Zhou Yang, Di Chun; video editors: Zhou Sa'ang, Zhang Yuhong, Jia Xiaotong, Wang Han)