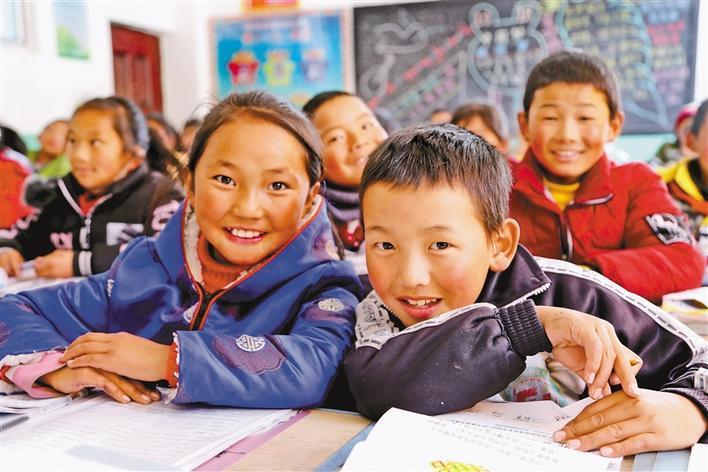 Photo shows primary students from Gyemen Village of Qonggyai County having class happily. [China Tibet News/Tsewang, Lundrop Tsering]
History is the record of yesterday, and also the best textbook of today. In Old Tibet, receiving education was the privilege of monasteries and nobles, yet serfs had no right to it at all. After the peaceful liberation of Tibet, the central government had put in a lot of efforts to build schools, implemented modern education system, and given all people in Tibet the equal right to receive education.
In the 55 years that Tibet Autonomous Region has been founded, especially since the 18th CPC National Congress, focusing on the main task of fostering virtue through education, the region has insisted on giving priority to the development of education. Taking the educational informanization as a starting point and support, Tibetan education has developed continuously and rapidly, and the quality of education has steadily improved, laying a solid foundation for the promotion of educational modernization.
Up to now, there are altogether 2,995 schools in Tibet, with a total of 841,500 students (including 88,530 students from other provinces of China). In 2019, the net enrollment rate of primary school in Tibet was up to 99.71%, and the gross enrollment rate of junior school, high school, higher education and preschool education were 102.88%, 86.62%, 47.65% and 84.42% respectively.
Nowadays, more and more students are up to better future by studying hard. In the new era, Tibet's education will surely provide sufficient talent and intellectual support to the region's long-term development, and lay a solid educational foundation to accomplish the task of building a moderately prosperous society in all aspects.