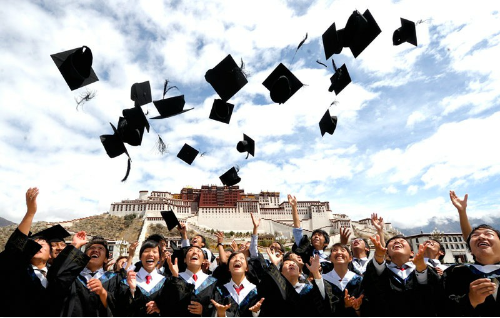 File photo shows the medical graduates of the Tibet University throwing mortarboards into the air. [Photo/Xinhua]
The Tibet autonomous region held a policy promotion activity in Beijing recently to announce the region's latest plan for recruiting talent, local media reported.
Under the plan, the region will offer 157 jobs to high-quality workers. The key focus will be on plateau ecology, geology, medicine, agriculture, animal husbandry, high-tech digital technology, clean energy and education.
Demand for the coming high-level talent is ranked into four categories — top domestic and international talent, national level leading talents, local leading talent and other high-level talent, the plan says.
The workers will be provided with subsidies ranging from 200,000 yuan ($29,000) and 2 million yuan after acceptance, and those who are shifted and introduced to work in Tibet will receive wage treatment equivalent to the standards of the region.
For high-level, full-time talent, a turnover room or an apartment of more than 70 square meters will be provided.
Spouses and children can relocate their household registration together with the worker, and their children may take the entrance exams of junior and senior middle schools and college entrance exams in Tibet.