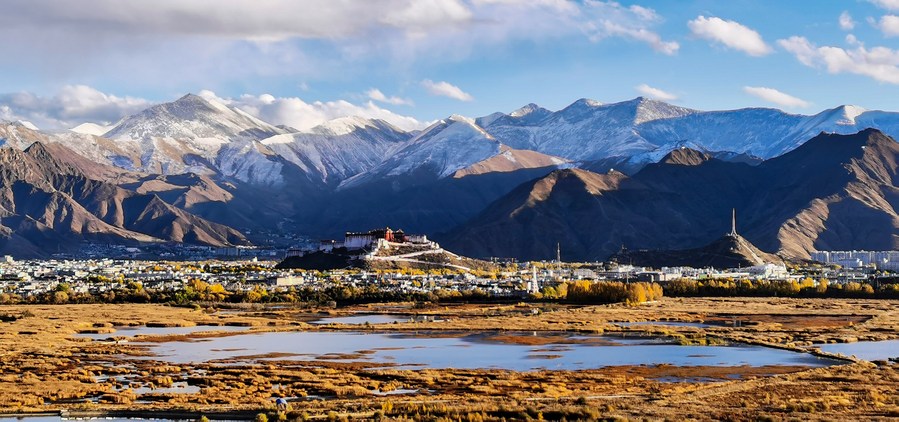 This photo taken with a mobile phone on Oct. 29, 2022 shows the Lhalu wetland in Lhasa, southwest China's Tibet Autonomous Region. (Xinhua/Shen Hongbing)
LHASA, June 16 (Xinhua) -- Sangye, owner of a Tibetan-style accessory shop at Barkhor Street in the heart of Lhasa, capital of southwest China's Tibet Autonomous Region, experienced a booming business lately thanks to an expo scheduled to open on Friday evening.
"I have received so many more customers than usual. And I hope to bring more Tibetan products to tourists with the arrival of the tourist season," Sangye said.
The three-day expo, officially called "the 5th China Xizang Tourism and Culture Expo," is one of the most important events in Tibet. Nearly 1,000 businesses from home and abroad have brought nearly 10,000 kinds of products on display in the 14,000-square-meter exhibition area.
Meanwhile, the expo serves as a platform for promoting Tibetan culture to the world, focusing on the featured products of Tibet, such as yak bone porcelain, plateau cooking utensils, and yak cashmere clothing. Tourism in the region will also be promoted.
This aerial photo taken on March 25, 2023 shows peach blossoms in full bloom in Nyingchi, southwest China's Tibet Autonomous Region. (Xinhua/Jiang Fan)
Losum Tsering has displayed six types of highland barley beer at his booth. The Tibetan established a barley beer factory in 2018, combining the plateau staple food with American-style hops.
"Foreigners are interested in barley growing on 'the roof of the world', and my dream of selling my beer to the world is being realized at the expo," said Losum Tsering.
Nepalese craftsman Narayan has brought copper pots, bowls, and bottles from Nepal. "This is my second time participating in the expo, and I am proud to bring my family's traditional craft to Tibet," said Narayan, 38.
On her first-ever visit to Tibet, Chen Lijuan, from southwest China's Chongqing Municipality, brought handmade chocolates her company imports from Australia.
"The Potala Palace is fully booked. I can only try my luck after the expo," said Chen, who has managed to visit the Jokhang Temple and Barkhor Street on the sidelines of her tight schedule.
Tibet is rich in tourism resources, with its majestic mountains and rivers, magnificent grasslands and forests and profound ethnic and religious culture. Activities such as Nyingchi Peach Blossom Festival and Lhasa Shoton (yogurt banquet) Festival have become widely known among tourists.
Sun Lu, a tourist from Beijing, has spent 10 days in Tibet. She visited the Tibet Museum, had photos taken in Tibetan costumes, and plans to visit the expo.
"I didn't expect the region to be so fashionable and modern. I have decided to look around at the expo to find out more about Tibet," said Sun.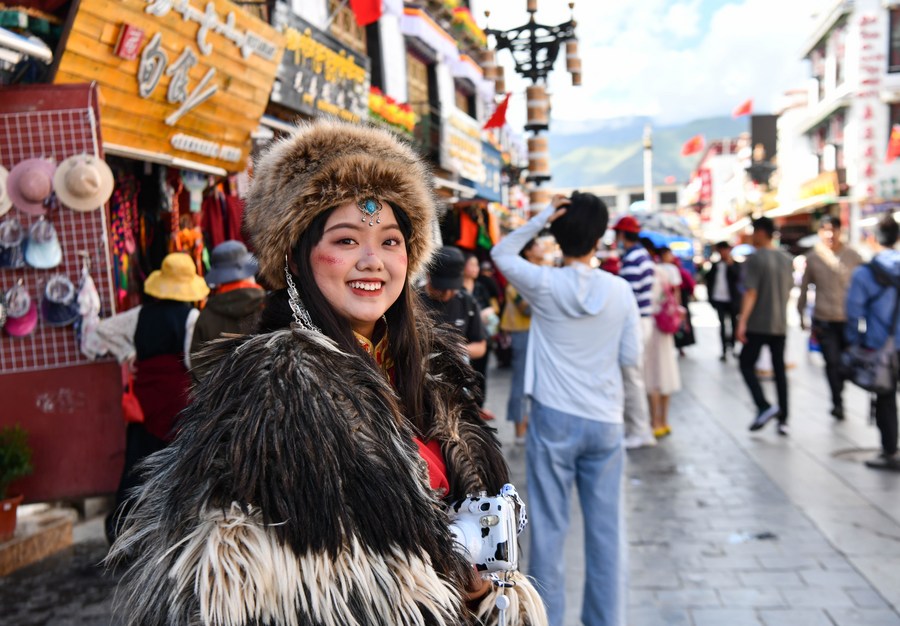 A tourist poses for photos at Barkhor Street in Lhasa, southwest China's Tibet Autonomous Region, July 23, 2021. (Xinhua/Jigme Dorge)
The region received more than 11.73 million tourist arrivals in the first five months of this year, a rise of nearly 45 percent year on year, showing evident market vitality and strong recovery, the regional tourism development department said.
To make the region a world-level tourist destination, the central government and regional government of Tibet have been supporting the construction of tourism infrastructure and public service facilities, and implementing a number of major cultural protection projects over the years.
The Ministry of Culture and Tourism has been continuously training local cultural and tourism managers, coordinating tourism design institutes to draft tourism plans for villages in Tibet free of charge and organizing tourism departments from Tibet to participate in international tourism expos.
Starting in 2018, a region-wide winter tourism promotion policy has been implemented, offering free admission to tourist attractions, including the Potala Palace, and government subsidies for hotels and other tourist spending items.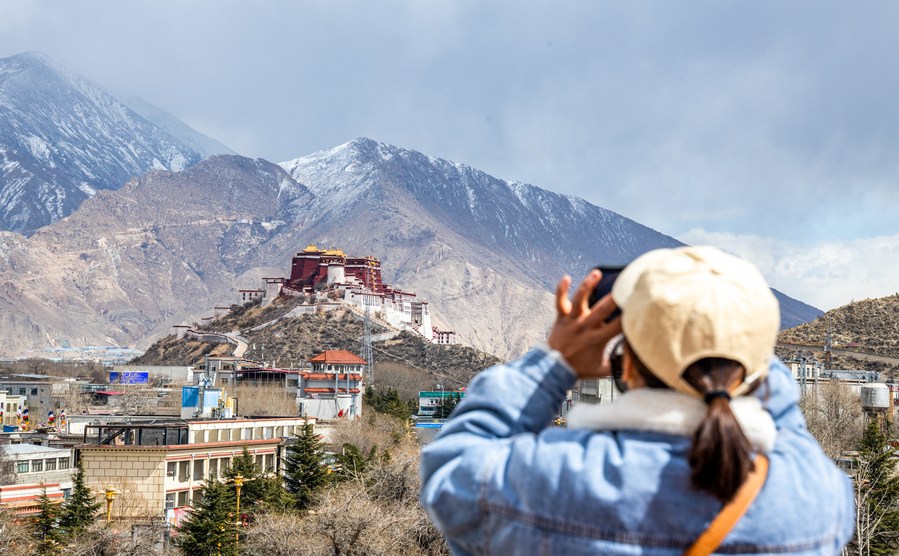 A tourist takes pictures of the Potala Palace in Lhasa, southwest China's Tibet Autonomous Region, Feb. 24, 2023. (Photo by Tenzin Nyida/Xinhua)
Hendy Yuniarto, a lecturer from the School of Asian Studies at Beijing Foreign Studies University, said that sustainable tourism has played a crucial role in eradicating poverty in Tibet.
From a poor and backward serfdom society to a socialist society, the Chinese central government has provided Tibet with various resources in the process, including many preferential policies and tax reductions. All of these policies helped lift the region out of poverty, and also laid a solid foundation for the development of tourism, said Yuniarto, who recently visited Tibet.
Official figures show that Tibet received over 157.6 million tourists from home and abroad, and achieved a tourism income of 212.6 billion yuan (29.8 billion U.S. dollars) from 2016 to 2020, 2.3 times and 2.4 times that of the previous five years, respectively, which helped lift 75,000 registered impoverished residents out of poverty.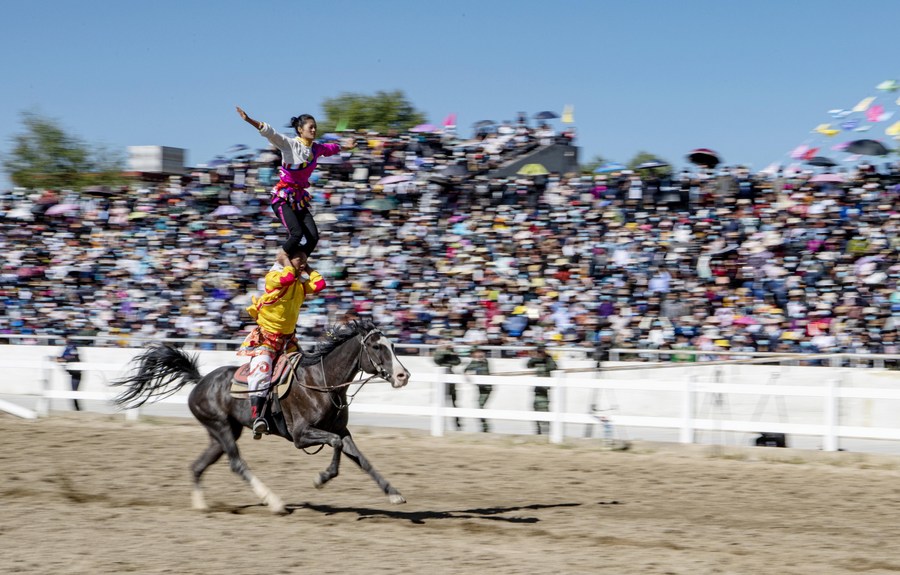 Riders perform on horseback to celebrate Lhasa Shoton (yogurt banquet) Festival in Lhasa, southwest China's Tibet Autonomous Region, Aug. 20, 2020. (Xinhua/Sun Fei)
Tibet used to be the only provincial-level contiguous poverty-stricken region in China. The region had accomplished the historic feat of eradicating absolute poverty by the end of 2019, with 628,000 people lifted out of poverty.
As tourism has become a pillar industry to promote Tibet's leapfrog development, Tibet should strive to improve the level of tourism development and service management, promote the integration of tourism, culture and ecology, create an "upgraded version" of Tibet tourism and make every effort to build an important world tourism destination, said Dai Bin, president of the China Tourism Academy.