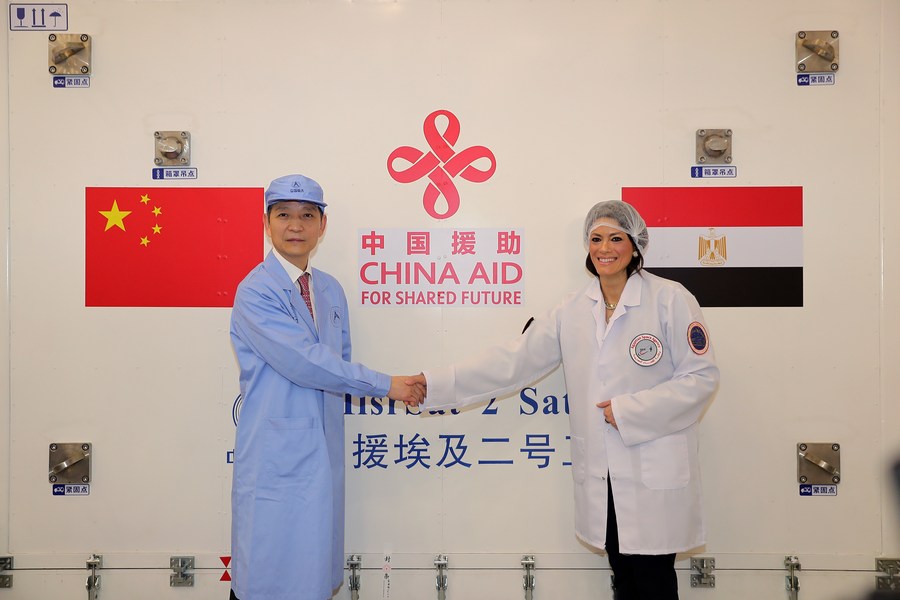 Egyptian Minister of International Cooperation Rania Al-Mashat (R) shakes hands with Chinese Ambassador to Egypt Liao Liqiang after a delivery ceremony of two prototype satellites of the MisrSat II satellite project at the Egyptian Space Agency near New Administrative Capital, Egypt, on June 25, 2023. (Xinhua/Wang Dongzhen)
BEIJING, Oct. 15 (Xinhua) -- Every morning, the education and sports TV channel of Laos reaches thousands of households in the Southeast Asian country via the LAOSAT-1 satellite transmission.
The educational channel, which played a crucial role in enabling students across the country to study at home during the COVID-19 pandemic, has continued to provide distance learning services to schools and students in remote mountainous areas.
In addition to supporting distance learning initiatives in Laos, China has undertaken numerous extensive space cooperation projects with BRI partner countries in the past decade.
Dubbed "space silk road," a service network weaved by satellites and ground stations among the BRI partner countries has promoted the space industry to better benefit the local people.
MULTIFACETED BENEFITS
China Aerospace Science and Technology Corporation (CASC), the leading entity in the country's space industry, has provided satellite research, development and launch services to BRI partner countries.
Satellites, such as the Bolivian communication satellite, the LAOSAT-1, the China-France marine satellite, and the Pakistan remote sensing satellite, have all been successfully launched, playing important roles in the fields of communications, agriculture, culture and entertainment, environmental protection and meteorology.
The LAOSAT-1 project, officially delivered in March 2016, marked China's first endeavor to export an entire satellite and participate in ground operations. It offers a range of services to Laos, including satellite communications, satellite TV live broadcast, wireless broadband, and more, transmitting more than 220 channels.
According to Hiem Phommachanh, former minister of post and telecommunications of Laos, the LAOSAT-1 has fulfilled the dream of the Lao people and is of great significance to Laos.
The remote sensing satellites launched by China for BRI partner countries have provided important support in fields such as weather forecasting, disaster prevention and mitigation, and climate change.
For instance, China-France marine satellite launched on Oct. 29, 2018 is the first satellite jointly developed by the two countries. It has realized large-area and high-precision synchronous observation of wind and ocean surface waves.
The satellite data can be shared and used by scientists and forecasters all over the world, which is helpful to better explore the formation and change of ocean waves. It also provides services for the navigation safety of ships at sea, marine disaster prevention and mitigation, resource survey, and provides basic information for global climate change research.
LOCALIZED OPERATION
In addition to providing space products and services for BRI partner countries, China's aerospace industry also trains local talents, promotes technology transfer and helps build local infrastructure for aerospace development.
China Academy of Space Technology, a CASC subsidiary, completed a satellite assembly, integration and test (AIT) center project in Egypt this June. It is China's first spacecraft development infrastructure export project for satellite AIT, making Egypt the first African country to possess satellite AIT capabilities.
Two satellites jointly designed and developed by China and Egypt have recently completed various tests and final assembly in the center.
According to Sherif Sedky, CEO of the Egyptian Space Agency, the center is the first step for Egypt to develop its satellite industry and will enable Egypt to play a leading role in transferring satellite technology to Africa.
Space Star Technology Co., Ltd., a branch of the China Academy of Space Technology, is the operator of the LAOSAT-1 satellite. It has not only helped Laos in training professionals in satellite tracking, telemetry and command, and ground applications but also established a localized team, with nearly 90 percent of the team members coming from Laos.
The company also operates mobile meteorological station projects in Bolivia, Uruguay and Botswana, and a remote sensing microsatellite project in Ethiopia. It conducted online training courses to help engineers from eight developing countries, such as Laos, Myanmar, Bangladesh and Pakistan, improve their capability to use space technology to cope with climate change.
BEIDOU NAVIGATION SYSTEM
Besides one-to-one cooperation, China also uses its extensive lines of space products to provide services to all Belt and Road partner countries.
The BeiDou-3 Navigation Satellite System is one such example. Officially launched on July 31, 2020, the satellite system has so far provided accelerated positioning and high-precision services to more than 1.5 billion users in more than 230 countries and regions, including BRI partner countries.
According to Ran Chengqi, director of the China satellite navigation system management office, BeiDou-based services, such as land confirmation, precision agriculture and smart ports, have been successfully applied in ASEAN countries, South Asia, West Asia, Eastern Europe and Africa to serve local economic and social development.
In Saudi Arabia, the satellite system has been used in gathering geographic information for surveying and mapping, aiding in the development of urban municipal infrastructure, and facilitating personnel and vehicle tracking in the desert.
In Lebanon, BeiDou high-precision service has been applied in the construction survey of the Beirut port terminal.
The dam in Sarez Lake of Tajikistan has used the satellite system to monitor dam deformation with millimeter-level accuracy, ensuring the safety of both the dam and the local people.
In Burkina Faso, a hospital built during the COVID-19 pandemic used BeiDou high-precision service in construction surveying and mapping, and the survey was completed in just six days, shortening the construction time by more than half.
The CASC said it will continue to strengthen the positive impact of China's space industry and provide better services for the people in BRI partner countries through a series of products, services and integrated solutions.