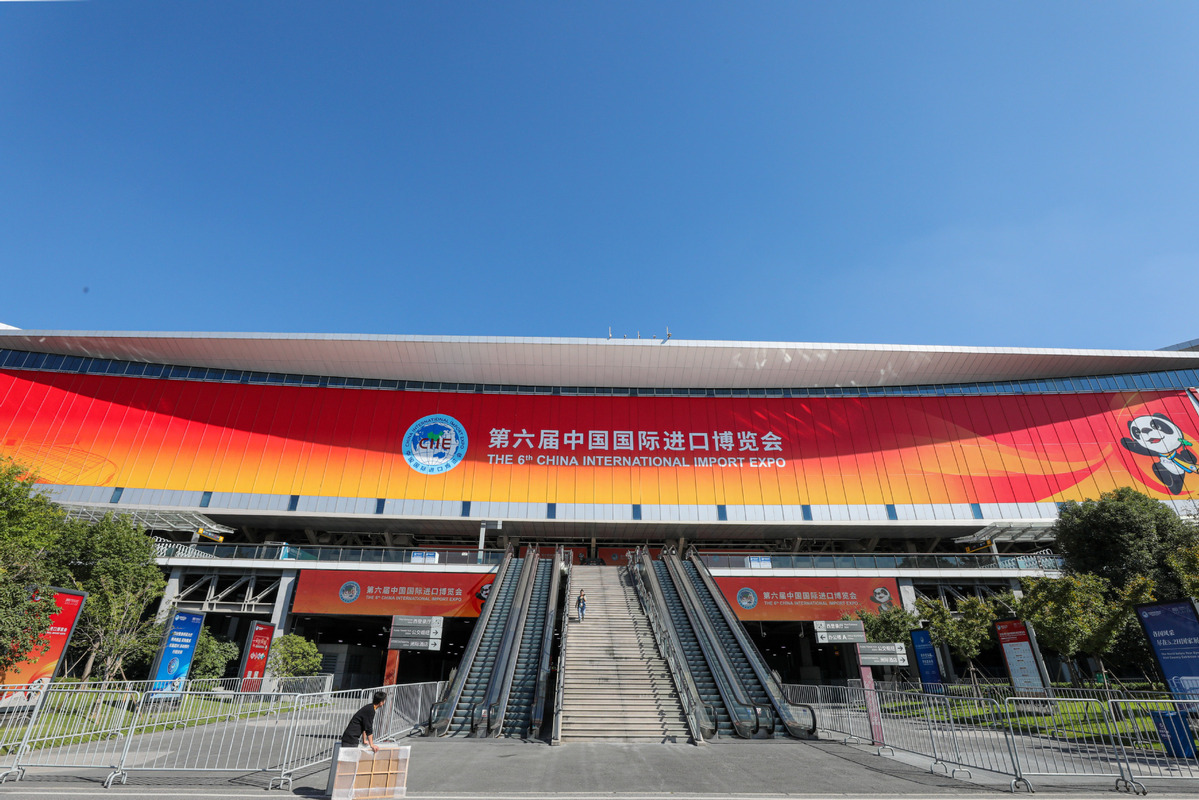 An exterior view of the venue of the 6th China International Import Expo (CIIE) in East China's Shanghai, Nov 5, 2023. [Photo/Xinhua]
United States-based companies are attending the sixth China International Import Expo, showcasing their eagerness to deepen cooperation with China amid gradually warming bilateral relations, according to corporate executives and experts.
With closer ties most widely expected in healthcare, agriculture and technology, the executives said China's increasing appeal for US companies will continue due to its robust domestic market and unwavering dedication to opening up its economy, despite globally subdued investment sentiment.
The scale of this year's expo, which runs through Friday in Shanghai, is the largest in the CIIE's history.
The strong presence of US businesses at the expo came after high-level exchanges between China and the US, and more efforts are likely to be made to promote interaction and cooperation between the world's two largest economies, experts added.
Stephane Bancel, CEO of the mRNA vaccine developer Moderna, said it was a "very important and historic day" for the US company, after Moderna announced that its research and production headquarters project broke ground in Shanghai's Minhang district on Monday.
The 3.6 billion yuan ($495 million) project, the first investment of the company on the Chinese mainland, is the largest foreign-invested biomedical project in China to date.
According to Bancel, the company is set to tap into the Chinese market by offering every patient personalized medicine, and it will conduct further clinical trials of its new medicines in the country. It took only a couple of months to materialize the strategic cooperation contract that Moderna signed with Shanghai authorities in July.
The US Department of Agriculture is also leading a delegation of 17 exhibitors at the CIIE.
Liu Chang, vice-president of Cargill Investments (China), the Chinese branch of the US agriculture and food company Cargill, said that "nearly one-fifth of Cargill's consumers are in China, and the country is an extremely important market for us".
"Whether it is raw materials or processed goods, China's vast consumer base provides a huge market for agricultural products, giving China a core position in the global agricultural supply chain," Liu said.
During the unveiling ceremony for a US agricultural product pavilion at the CIIE on Monday, US Ambassador to China Nicholas Burns said that economic and trade cooperation between China and the US is very important, and Washington does not seek to decouple from Beijing.
Bai Ming, a researcher at the Chinese Academy of International Trade and Economic Cooperation, said US companies' enthusiasm for the CIIE has demonstrated that there is more room for bilateral economic cooperation between the two countries, and further efforts can be undertaken to boost such cooperation.
Mutual respect and win-win cooperation are what companies from both sides want, Bai said.
Frank Meng, chairman of Qualcomm China, which is participating in the CIIE for the sixth year, said the US chip heavyweight sees huge opportunities in partnering with Chinese companies in 5G, artificial intelligence, internet of things and intelligent connected vehicles, as the company highlights its commitment to China.
"Qualcomm has consistently considered China as a pivotal business partner and valued customer, viewing it as more than just a market or a link in the supply chain," Meng said.
He added that in past years, smartphones that use Qualcomm's flagship mobile chips and were launched by Chinese companies accounted for nearly half of the initial launches worldwide. "This underscores the significance of the Chinese market and our partnership with Chinese companies," Meng said.
Puay Koon Chia, Asia-Pacific president of the US-based global materials science company Dow, said that the CIIE "is an important platform for us to showcase our latest innovative technologies for China and the region", and "it highlights the valuable partnerships we have in China".
The company signed a $300 million memorandum of understanding with ZKH Group, a Chinese digital service company, at the CIIE on Sunday. Under the cooperation, the two will tap into burgeoning silicone markets downstream, such as electrification, transportation, packaging and construction.