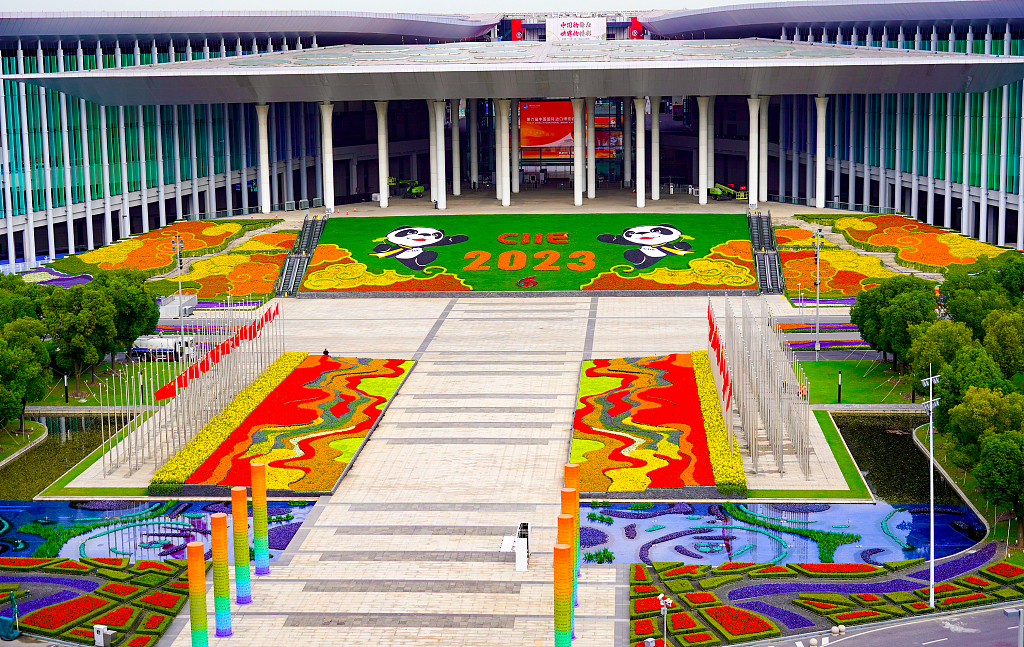 This photo taken on Oct 29, 2023 shows the south square of the National Exhibition and Convention Center (Shanghai), the main venue for the 6th China International Import Expo, in Shanghai. [Photo/VCG]
Sixty-nine countries and three international organizations showcased themselves at the Country Exhibition area of the sixth China International Import Expo in Shanghai, in a bid to access growth opportunities in a big market like China.
Many of them said the expo provides an open and cooperative platform for win-win development between them and China, an important opportunity for world development as always, especially when the impetus for world economic recovery is insufficient.
As a guest country of honor at this year's CIIE, Vietnam highlighted its development achievements and economic potential, and featured handicrafts, silk scarves and coffee at its booth.
China is Vietnam's important trade partner. Exhibiting enterprises hoped to expand exports of high-quality products, attract investment and stimulate tourism through the CIIE platform.
South Africa, Kazakhstan, Serbia and Honduras are the other four guest countries of honor at the CIIE this year.
Germany's booth hosted the country's two organizations and seven enterprises, focusing on their latest achievements and application cases in the fields of intelligent manufacturing, Industry 4.0, medical health and talent training.
Germany is one of China's most important trade partners in Europe. Also, Germany has participated in the CIIE for five consecutive years, with an average of more than 170 enterprise exhibitors and an exhibition area averaging nearly 40,000 square meters each year, ranking first among European nations.
Efaflex, a brand from Germany with nearly five decades of expertise in research, development and manufacture of safe high-speed doors used mainly in vehicle manufacturing scenarios and pharmaceutical plants, is participating in the CIIE for the first time.
Chen Jinguang, a sales manager at the company's Shanghai branch, said the company has been selling its products in China for 35 years and boasts around 40 percent of the market share in safe high-speed doors used in vehicle manufacturing sites in the country.
"The CIIE further exposed us to industry purchasers. Many visitors are from the fields of infrastructure construction, cold storage warehousing and clean rooms for food producers. They currently have actual projects requiring rolling shutter doors. We have been having in-depth communication at the expo," said Chen.
"For instance, one visitor from the power industry from Guangdong province said their plant has demanding requirement regarding safety. The CIIE created a chance for him to get in touch with an enterprise like us that can meet their requirement," he said.
Finland, whose largest trade partner in Asia has been China for several years, has 16 representative enterprises from fields like energy, machine building, forestry and papermaking, digitalization and living design. They represent Finland's strength in R&D, innovation and science and technology.
At the Finland booth on Wednesday, Metso, a Finnish company providing sustainable solutions to industries, including mineral processing and metal smelting, held a ceremony for inking a strategic cooperation agreement with China's Zijin Mining.
Finland has rich resources and expertise in mining and forestry, and Metso has a history of 150 years. The company has had close ties with Chinese enterprises in mining and new energy industries.
Yan Xin, a marketing specialist from Metso, said cooperation with Zijin will focus on providing equipment and service support for the latter, which is assisting some countries involved in the Belt and Road Initiative to develop their mining projects.