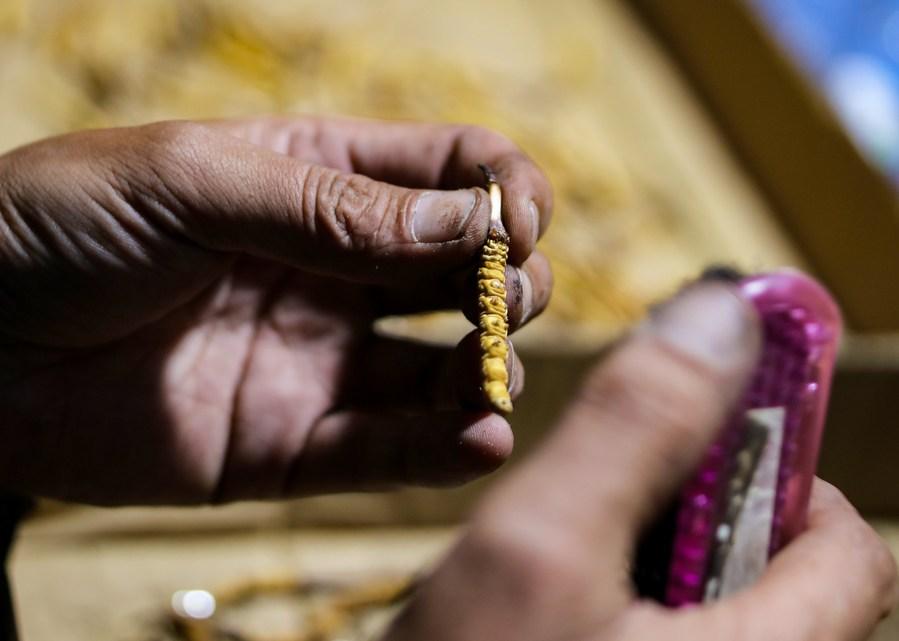 A herdsman cleans a newly-harvested caterpillar fungus at a caterpillar fungus collecting site in Lainqu Township, Biru County of Nagqu, southwest China's Tibet Autonomous Region, May 25, 2022.(Xinhua/Jiang Fan)
LHASA, April 9 (Xinhua) -- Southwest China's Tibet Autonomous Region has basically established a Tibetan medicine service system that covers the whole region, said the regional health commission on Saturday.
Tibetan medicine services can now be provided by all the region's community health service centers, 94.4 percent of its township hospitals and 42.4 percent of its village clinics.
Tibetan medicine, known as "Sowa Rigpa" in Tibetan, dates back 2,500 years. It has absorbed the influences of traditional Chinese, Indian and Arab medicine and is mainly practiced in Tibet and the Himalayan region.
In ancient times, Tibetan practitioners (known as Manpa in Tibet) collected animals, plants and ores to use as ingredients to cure diseases. In 2018, the United Nations Educational, Scientific and Cultural Organization (UNESCO) inscribed China's Lum medicinal bathing of Sowa Rigpa on the Representative List of the Intangible Cultural Heritage of Humanity.
To better preserve and promote the traditional ethnic culture, Tibet has strived to advance the all-round development of Tibetan medicine in healthcare, scientific research, education and business application.
Over the years, Tibetan medicine producers have progressed from manual workshops to standardized factories and companies. Last year alone, the sales of the region's Tibetan medicine manufacturers exceeded 2.5 billion yuan (about 363 million U.S. dollars), generating a tax revenue of about 350 million yuan.
The region will further improve its Tibetan medicine talent cultivation models and promote the application of relevant scientific and technological achievements during China's 14th Five-Year Plan period (2021-2025), said the commission.